Are you a student curious about potential career opportunities in the United States? If so, then "Unlocking Future Opportunities: A Career Overview of Locksmiths" is the article you've been waiting for. This comprehensive overview will provide you with valuable insights into the world of locksmithing as a potential profession. From the skills and qualifications required to the growth prospects and job responsibilities, this article aims to give you a clear understanding of the career path of a locksmith. So, join us as we explore the exciting possibilities that await you in the locksmithing industry.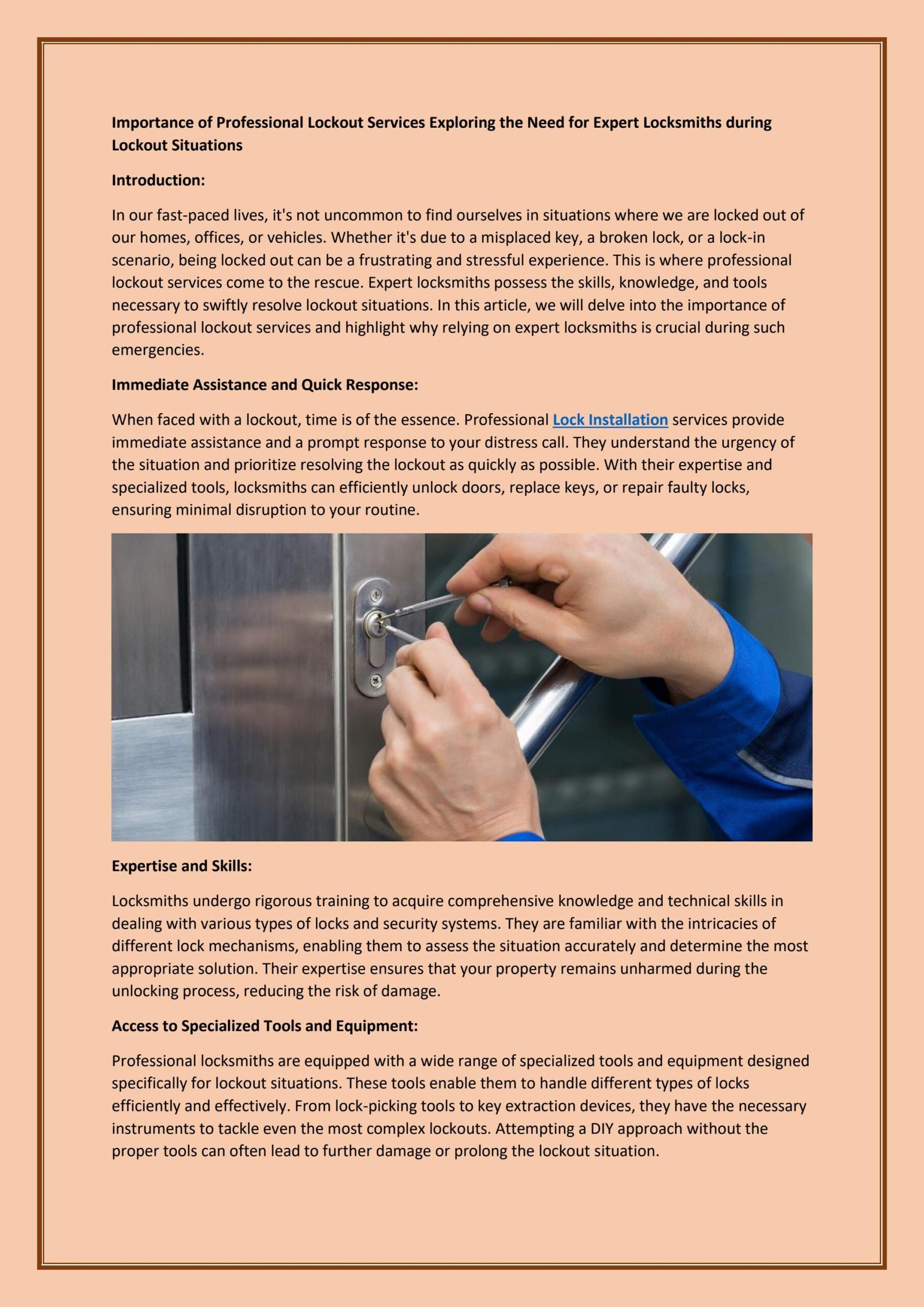 This image is property of image.isu.pub.
Job Description
What is a locksmith?
A locksmith is a professional who specializes in the installation, repair, and maintenance of locks and security systems. As a locksmith, your primary responsibility is to ensure the safety and security of people's homes, businesses, automobiles, and other valuable possessions. You will use various tools and techniques to assess security needs, recommend appropriate lock systems, and provide solutions to clients.
Key Responsibilities
Your key responsibilities as a locksmith may include:
Installing, repairing, and maintaining different types of locks, including residential, commercial, and automotive locks.
Opening locks that have been accidentally locked or when the key is lost.
Making duplicate keys for locks.
Installing and repairing security systems, such as CCTV cameras and alarm systems.
Advising clients on the most suitable lock and security system options based on their specific needs and budget.
Responding to emergency calls and providing immediate assistance to clients in lockout situations.
Staying updated with the latest advancements in lock and security technology.
Skills and Qualifications
Necessary Skills
To excel as a locksmith, you need to possess a certain set of skills, including:
Manual dexterity and hand-eye coordination for working with small parts and intricate lock systems.
Excellent problem-solving and troubleshooting skills to identify and resolve lock and security system issues.
Strong attention to detail to ensure precision in lock installation and repairs.
Good communication skills to interact with clients professionally and explain complex technical concepts in a clear manner.
Customer service skills to build and maintain positive relationships with clients.
Physical fitness to handle the physical demands of the job, which may involve lifting heavy tools and standing for long periods.
Educational Requirements
While formal education beyond a high school diploma or equivalent is not always required to become a locksmith, some employers may prefer candidates with post-secondary education in locksmithing or a related field. However, completing courses or obtaining certifications in locksmithing can significantly increase your chances of securing employment and advancing in your career.
Certifications and Licenses
Obtaining certifications and licenses can enhance your credibility as a locksmith and open up additional career opportunities. Some of the recognized certifications in the locksmithing industry include:
Certified Registered Locksmith (CRL)
Certified Professional Locksmith (CPL)
Certified Master Locksmith (CML)
Automotive Services Excellence (ASE) Certification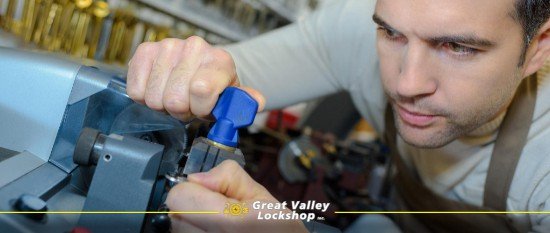 This image is property of www.gvlock.com.
Job Prospects
Industry Growth
The locksmithing industry is expected to experience steady growth in the coming years. With the increasing need for improved security measures in both residential and commercial settings, there will be a continuous demand for locksmiths who can provide expertise in installing and maintaining advanced lock and security systems. Additionally, as technology advances, locksmiths who specialize in digital security systems may find even more opportunities in this evolving field.
Opportunities for Advancement
As a locksmith, there are several avenues for career advancement. You can choose to specialize in a specific area of locksmithing, such as automotive locksmithing or commercial locksmithing, which can lead to higher earning potential and increased job opportunities. Additionally, with experience and expertise, you may consider starting your own locksmith business or transitioning into a managerial role within a locksmith company.
Job Stability
Locksmiths enjoy a relatively stable job market due to the ongoing need for their services. Regardless of economic conditions, people will always require the assistance of locksmiths for lock installation, repairs, and emergency situations. This stability offers locksmiths a sense of job security and peace of mind.
Work Environment
Nature of Work
Locksmiths often work independently, traveling to clients' homes, businesses, or other locations where their services are needed. While some locksmiths may work regular hours, others may need to respond to emergency calls and work irregular hours, including weekends and holidays. The nature of the work also requires physical stamina, as locksmiths may need to work in various weather conditions and potentially climb ladders or access confined spaces.
Typical Working Hours
The working hours of a locksmith can vary depending on the specific job requirements. Some locksmiths operate during regular business hours, typically from 9 a.m. to 5 p.m. However, many locksmiths also provide emergency services and are available 24/7 to assist clients in lockout situations. The flexibility of working hours allows locksmiths to cater to the diverse needs of their clients.
Work Settings
Locksmiths can work in various settings, including:
Residential settings: Installing, repairing, and maintaining locks and security systems in homes and apartments.
Commercial settings: Providing locksmith services to businesses, such as offices, retail stores, and industrial facilities.
Automotive settings: Assisting with lockouts, key replacements, and other automotive locksmithing needs.
Emergency locksmith services: Responding to emergency calls and providing immediate assistance in lockout situations.
This image is property of i0.wp.com.
Salary and Benefits
Earnings Potential
The earnings potential for locksmiths can vary based on factors such as experience, location, and specialization. According to the U.S. Bureau of Labor Statistics, the median annual wage for locksmiths was $42,930 in May 2020. However, highly skilled locksmiths and those operating their own businesses can earn significantly more.
Benefits and Perks
Locksmiths may enjoy a range of benefits and perks, including:
Health insurance coverage
Retirement plans and pensions
Paid time off and vacation days
Flexible working hours
Job security and stability
Opportunities for career advancement and professional development
Challenges and Rewards
Key Challenges
While locksmithing can be a rewarding career, it also comes with its own set of challenges. Some of the key challenges locksmiths may face include:
Working in potentially high-stress situations, especially during emergency calls or lockouts.
Dealing with challenging clients or situations that require quick problem-solving and conflict resolution skills.
Staying updated with the latest advancements in lock and security technology to provide the best possible service to clients.
Job Satisfaction
Despite the challenges, locksmithing can be a highly rewarding career. The satisfaction of helping people regain access to their homes, businesses, or vehicles and ensuring their safety and security can be immensely gratifying. Additionally, the opportunity to continuously learn and adapt to new technologies and techniques in the locksmithing industry keeps the job interesting and engaging.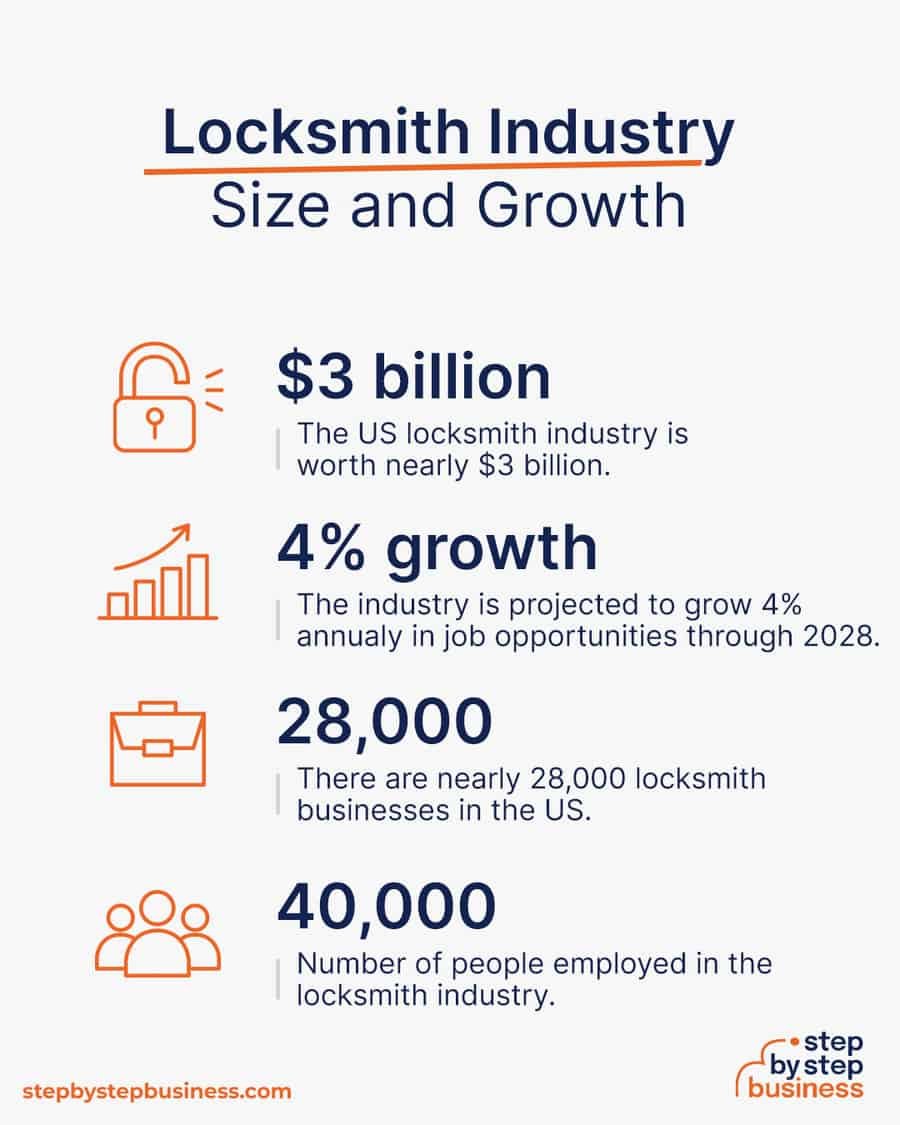 This image is property of stepbystepbusiness.com.
Specializations
Types of Locksmithing
Locksmithing offers various specializations that locksmiths can pursue based on their interests and career goals. Some common types of locksmithing specializations include:
Residential locksmithing: Focusing on residential lock installation, repairs, and security system recommendations.
Commercial locksmithing: Specializing in securing businesses and commercial properties through advanced lock systems and access control.
Automotive locksmithing: Assisting with issues related to vehicle locks, keys, and security systems.
Emergency locksmithing: Providing immediate assistance in lockout situations, such as being locked out of a home or car.
Niche Areas
Within the broader scope of locksmithing, there are also niche areas that locksmiths can explore. These may include specializing in digital security systems, forensic locksmithing, or even becoming a safe technician. Niche areas often require additional training and certifications to develop expertise in specific aspects of locksmithing.
Career Paths
Different Paths
Locksmiths have the opportunity to choose from various career paths based on their interests and skills. Some possible career paths within the locksmithing industry include:
Working for a locksmith company: Joining an established locksmith company and gaining experience under the guidance of experienced professionals.
Starting a locksmith business: Becoming a self-employed locksmith and building your own business.
Entrepreneurship opportunities: Developing innovative products or services related to locksmithing and starting a startup or invention-based career.
Job Opportunities
As long as people continue to need lock and security services, there will be job opportunities for locksmiths. With the growth in the construction industry and increasing awareness about the importance of security, locksmiths can expect a steady demand for their services. Additionally, advancements in technology may open up new job opportunities for locksmiths who specialize in digital security systems and smart locks.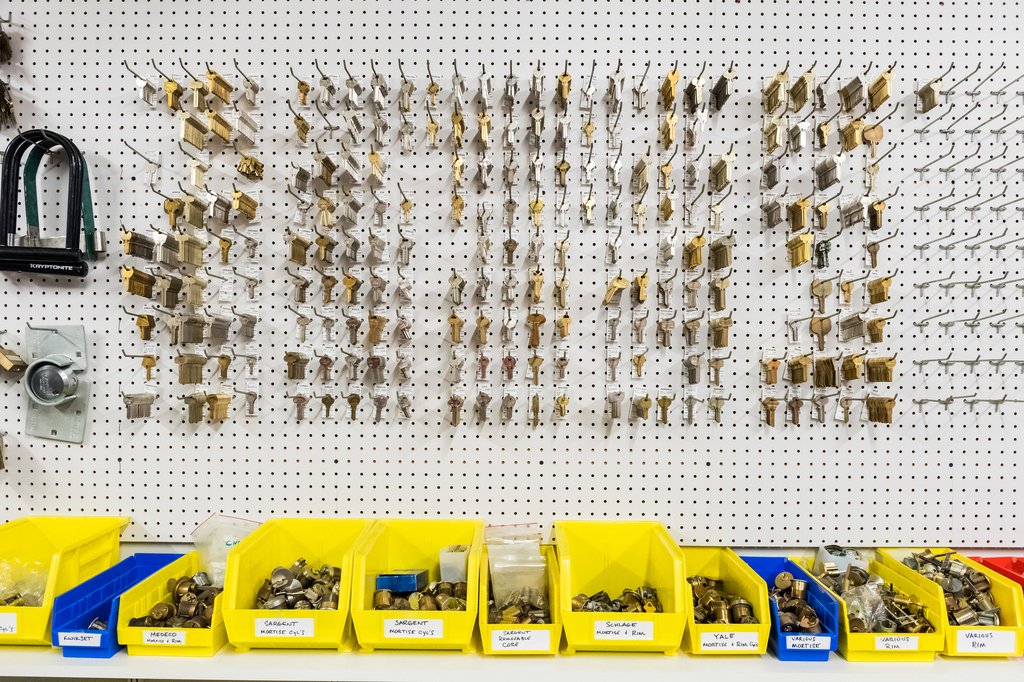 This image is property of nbss.edu.
Educational Resources
Top Locksmithing Schools
Several locksmithing schools provide comprehensive training programs to equip aspiring locksmiths with the necessary skills and knowledge for a successful career. Some top locksmithing schools in the USA include:
Foley-Belsaw Locksmithing Program, Kansas
The Academy of Locksmithing, Alhambra, California
Lockmasters Security Institute, USA
Associated Locksmiths of America (ALOA) Education Program
Training Programs
In addition to dedicated locksmithing schools, many vocational schools and community colleges offer training programs in locksmithing. These programs cover topics such as lock installation, repair techniques, and security systems. Completing a locksmith training program can give you a competitive edge in the job market and enhance your understanding of the industry.
Building a Successful Career
Networking
Building a strong professional network can be instrumental in advancing your locksmithing career. Attend industry events, join locksmithing associations, and connect with fellow locksmiths to exchange knowledge, stay updated with industry trends, and discover new job opportunities. Networking can also help with referrals and word-of-mouth recommendations, which can significantly boost your client base.
Continuing Education
To thrive in the locksmithing industry, it is crucial to embrace lifelong learning. Stay updated with the latest advancements in lock and security technology by attending workshops, seminars, or online courses. Additionally, seek out opportunities to learn from experienced locksmiths or industry experts who can provide valuable insights and mentorship.
Professional Organizations
Joining professional organizations such as the Associated Locksmiths of America (ALOA) can offer numerous benefits to locksmiths. These organizations provide access to resources, educational programs, certifications, and networking opportunities that can enhance your professional growth and elevate your career prospects. Being part of a professional organization also demonstrates your commitment to the industry and can increase your credibility as a locksmith.
In conclusion, a career in locksmithing offers a wide range of opportunities for those interested in ensuring the safety and security of others. With the right skills, education, and dedication, you can thrive in this industry, providing essential services to individuals and businesses alike. So, whether you choose to specialize in residential, commercial, or automotive locksmithing, the future holds promising prospects for a rewarding and fulfilling career in the locksmithing field.