If you've ever dreamt of pursuing a career in law in the United States, this article is your guide to making that dream a reality. Becoming a lawyer is a rigorous and rewarding journey, and it's important to understand the steps involved in achieving this goal. From obtaining a bachelor's degree to passing the bar exam, we'll take you through the essential milestones required to become a lawyer in the USA. So, let's dive in and explore how you can pave your way towards a successful legal career.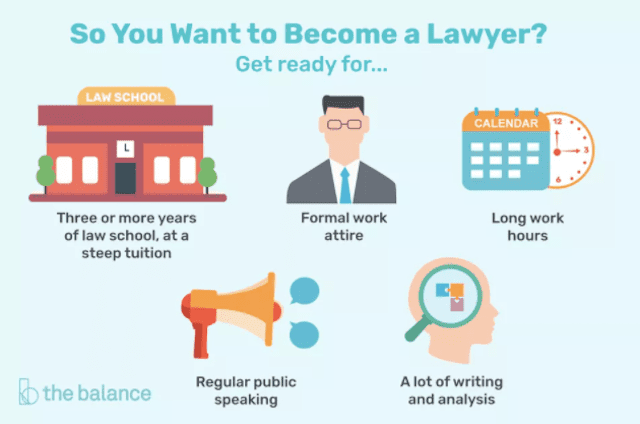 This image is property of www.liveabout.com.
Steps to Become a Lawyer in the USA
Becoming a lawyer in the United States is an exciting and rewarding journey. It requires dedication, hard work, and a passion for justice. If you are considering a career in law, here are the essential steps you need to take to become a lawyer in the USA.
Earn a Bachelor's Degree
The first step on your path to becoming a lawyer is to earn a bachelor's degree. While there is no specific major required for law school admission, it is advisable to choose a degree that provides a solid foundation in critical thinking, research, and writing skills. Popular undergraduate majors for aspiring lawyers include political science, history, English, and philosophy.
During your undergraduate studies, maintaining a high GPA is essential. Law schools typically consider your academic performance when evaluating your application. Additionally, participating in pre-law organizations and activities can enhance your understanding of the legal field and demonstrate your commitment to pursuing a career in law.
Developing strong writing and communication skills is crucial for success in law school and the legal profession. Take advantage of opportunities to hone these skills through writing-intensive courses, public speaking engagements, and joining debate clubs.
Consider taking pre-law courses, such as constitutional law, criminal justice, or legal writing, to gain a foundational understanding of the legal system and concepts before entering law school. While these courses are not mandatory, they can provide a head start in your legal education.
Take the LSAT (Law School Admission Test)
To gain admission to law school, you must take the Law School Admission Test (LSAT). The LSAT is a standardized exam that assesses your critical thinking, reasoning, and analytical skills, which are vital for success in law school.
To prepare for the LSAT, begin by registering for the exam and familiarizing yourself with its content and structure. Numerous resources, including books, online courses, and practice tests, are available to help you prepare for the LSAT. Devote time and effort to studying for the exam, as a strong LSAT score can significantly impact your chances of admission to your desired law school.
Once you feel adequately prepared, schedule a date to take the LSAT. The test is administered multiple times throughout the year, allowing you to select a date that suits your schedule. Remember to arrive at the test center well-prepared, well-rested, and ready to showcase your abilities.

This image is property of www.concordlawschool.edu.
Obtain a Juris Doctor (J.D.) Degree
After successfully completing your undergraduate studies and obtaining a bachelor's degree, the next step is to pursue a Juris Doctor (J.D.) degree. The J.D. degree is the primary professional degree required to practice law in the United States.
Research various law schools to find the programs that align with your career goals and values. Factors to consider include location, reputation, curriculum, faculty, and areas of specialty offered by each law school. Make sure to evaluate each school's admission requirements and application deadlines, as these may vary.
Submit your applications to the law schools of your choice, ensuring that you meet all requirements and include all necessary documents, such as your LSAT score, undergraduate transcripts, personal statement, and letters of recommendation. It is recommended to apply to several law schools to maximize your chances of admission.
Once accepted into a law school, you will embark on the Juris Doctor program, which typically spans three years. During this time, you will study a variety of legal subjects, including constitutional law, contracts, criminal law, civil procedure, and more. Law school requires dedication, long hours of studying, and a commitment to understanding complex legal concepts.
Participating in legal clinics and externships is an excellent way to gain practical experience and exposure to real-life legal cases while still in law school. These programs allow you to work under the supervision of experienced attorneys, providing valuable insight into the practice of law and the various legal fields.
Consider exploring joint degree programs that allow you to earn an additional degree alongside your J.D. For example, a J.D./M.B.A. program combines a law degree with a Master of Business Administration and is ideal for individuals interested in the intersection of law and business.
Pass the Bar Exam
To practice law in the United States, you must pass the bar exam in the state or states where you intend to practice. Each state has its own specific requirements for the bar exam, so it is crucial to research the requirements of the state you plan to practice in.
Begin by familiarizing yourself with the state-specific bar exam requirements, including the subjects tested, the format of the exam, and any additional prerequisites or eligibility criteria. Once you meet the requirements, register for the bar exam and schedule a date for your examination.
Studying for the bar exam is an intensive process that requires dedication, organization, and discipline. Consider enrolling in a bar review course, which provides structured study materials, practice exams, and guidance from experienced instructors. Allocate sufficient time to thoroughly review and understand the tested subjects, as a high score on the bar exam is essential for obtaining a legal license.
On the day of the exam, arrive well-prepared and confident in your abilities. The bar exam is typically administered over several days and consists of both multiple-choice questions and essay questions. Take your time, carefully read each question, and provide clear and concise answers.
Upon successfully passing the bar exam, you will be eligible for admission to the bar and can begin your legal career.
This image is property of i.ytimg.com.
Complete a Legal Internship or Clerkship
To gain practical legal experience and further develop your skills, consider completing a legal internship or clerkship. These opportunities allow you to work under the guidance of practicing attorneys and gain firsthand exposure to the daily operations of the legal profession.
Start by researching legal internship or clerkship opportunities in law firms, government agencies, nonprofit organizations, or corporate legal departments. Update your resume, write a compelling cover letter, and apply for positions that align with your career interests.
During your internship or clerkship, actively engage in legal tasks such as legal research, writing memoranda, attending court proceedings, and participating in client meetings. Make the most of this experience by seeking feedback, asking questions, and observing experienced attorneys in action. The practical skills and knowledge gained during this period will be invaluable as you transition into your legal career.
Consider Specializing in a Specific Area of Law
While not mandatory, specializing in a specific area of law can offer numerous benefits, including increased marketability, higher earning potential, and the opportunity to become an expert in a particular field. Consider researching various legal specializations to identify the area that resonates with your interests and long-term goals.
Take elective courses in your desired field during law school to acquire specialized knowledge and skills. These courses may cover topics such as intellectual property law, environmental law, family law, or corporate law, depending on your chosen specialization. Additionally, participate in related internships or externships to gain practical experience in your desired area of law.
To become an expert in your chosen area, continuously seek opportunities to develop your expertise. This may involve attending conferences, participating in specialized training programs, joining relevant professional organizations, and following the latest developments and trends in your field.
This image is property of i.ytimg.com.
Gain Professional Experience
Before launching your legal career, gaining professional experience is crucial. Consider working as a paralegal, legal assistant, or in an entry-level legal position to further develop your skills and knowledge. These roles provide hands-on experience in legal research, drafting legal documents, and interacting with clients and other professionals in the legal field.
Building a network in the legal industry is also essential. Attend legal conferences, participate in workshops, and join professional organizations that align with your interests and career aspirations. Networking can open doors to opportunities, provide mentorship, and connect you with potential employers or colleagues who can enhance your career trajectory.
Regardless of your role or position, strive to develop strong legal skills by continuously learning, adapting, and seeking feedback. The legal field is constantly evolving, and staying abreast of legal developments and emerging technologies will ensure you remain competitive and effective in your practice.
Obtain Professional Licensure
To practice law legally, you must obtain professional licensure by being admitted to the state bar association in the state where you intend to practice. Requirements for admission to the bar vary by state, so carefully research and understand the requirements of the state bar association you are pursuing admission to.
Begin by researching the state bar admission requirements, which typically include submitting an application, providing character references, undergoing a background check, and passing a character and fitness evaluation. Adhere to all deadlines and ensure all necessary paperwork and documents are submitted accurately and on time.
The character and fitness evaluation aims to assess your moral character, honesty, and integrity. It may involve submitting personal statements, undergoing interviews, and providing references. Treat this process with the utmost care and honesty to avoid any potential complications in your admission to the bar.
This image is property of www.llmstudy.com.
Join Professional Associations
Joining professional associations is highly beneficial for lawyers at all stages of their careers. Professional associations provide ongoing support, networking opportunities, and resources to enhance your professional development and success.
Research and choose relevant professional associations that align with your legal interests and career goals. For example, the American Bar Association (ABA) is the largest national association for lawyers and provides resources, continuing education opportunities, and networking events. Additionally, there are numerous specialized bar associations that cater to specific areas of law or identities within the legal profession.
Apply for membership in the chosen professional associations and actively participate in association events, committees, and networking opportunities. Engaging with experienced professionals in your field can provide valuable guidance, mentorship, and opportunities for collaboration that can advance your legal career.
In conclusion, becoming a lawyer in the United States requires completing a series of steps, including earning a bachelor's degree, taking the LSAT, obtaining a Juris Doctor degree, passing the bar exam, gaining practical experience, considering specialization, obtaining professional licensure, continuing legal education, and joining professional associations. Each step is crucial and contributes to your growth and development as a legal professional. By following this comprehensive process, you will be well on your way to a successful career in law in the USA.