Are you interested in pursuing a career as a Lash Tech in the USA? Look no further! This article will provide you with a step-by-step guide on how to become a lash technician and enter the exciting world of beauty and cosmetics. Whether you have a passion for enhancing natural beauty or simply want to learn a new skill, this article will equip you with all the information you need to kickstart your journey towards becoming a successful lash technician in the USA. So, let's jump right in and discover the steps to turn your passion into a fulfilling career!
This image is property of divinelashes.ca.
Research the Lash Tech Industry
Understand the role of a Lash Tech
Before embarking on a journey to become a Lash Tech, it's important to have a clear understanding of the role and responsibilities. A Lash Tech, short for Lash Technician, specializes in applying lash extensions to enhance the appearance of clients' eyelashes. This requires precision, skill, and attention to detail as the technician carefully applies individual lashes to the natural lashes, creating a fuller and longer look. Lash Techs may also offer other services such as lash lifts, tinting, and removals.
Learn about the demand for Lash Techs in the USA
To make an informed decision about entering the lash tech industry, it's crucial to know about the demand for professionals in the United States. In recent years, the demand for lash techs has been steadily increasing as more people realize the transformative power of beautiful lashes. According to industry reports, the lash extension market in the United States is expected to grow significantly in the coming years. This means there will be a need for skilled lash techs to cater to the growing number of clients seeking lash services.
Explore different types of lash services
Lash services go beyond just lash extensions. As a Lash Tech, you have the opportunity to offer a variety of lash treatments to meet the diverse needs and preferences of clients. Some popular lash services include lash lifts, which curl the natural lashes to create a more open and lifted appearance, lash tinting, which adds color to the lashes, and lash removals, which safely remove lash extensions if desired. By exploring the different types of lash services, you can decide which areas you would like to specialize in and offer a comprehensive range of services to your future clients.
Complete High School Education
Graduate from high school or obtain a GED
To pursue a career as a Lash Tech, a high school diploma or GED (General Educational Development) equivalency is typically required. Completing your high school education not only fulfills this requirement but also provides you with a solid educational foundation to build upon. High school equips you with essential skills, such as communication, critical thinking, and problem-solving, that will be valuable in your future lash tech career.
Focus on art, beauty, or related subjects
While not mandatory, focusing on art, beauty, or related subjects during your high school education can significantly benefit your journey toward becoming a Lash Tech. These subjects can help you develop an eye for aesthetics, understand color theory, and gain knowledge about beauty techniques. Taking art classes, learning about makeup application, and studying subjects like cosmetology can provide you with a strong foundation and enhance your creativity, which are highly valued in the lash tech industry.
This image is property of www.pmuhub.com.
Enroll in a Lash Tech Training Program
Research accredited lash tech training programs
To gain the necessary skills and knowledge to excel as a Lash Tech, enrolling in a reputable lash tech training program is essential. Conduct thorough research to find accredited training programs that meet industry standards and provide comprehensive education. Look for programs that are recognized by professional lash associations and have experienced instructors with a wealth of expertise in lash extensions and related services.
Consider location, duration, and cost
When selecting a lash tech training program, consider practical factors such as the location, duration, and cost. Choose a program that is easily accessible to you, ensuring that you can attend classes without difficulty. Evaluate the duration of the program, as you'll want to find a balance between intensive training and a timeframe that fits your schedule. Additionally, consider the cost of the program, including tuition fees and any additional expenses, to ensure it fits within your budget.
Review curriculum and course offerings
Before enrolling in a lash tech training program, carefully review the curriculum and course offerings to ensure they align with your goals and aspirations. A comprehensive program should cover topics such as lash anatomy, hygiene and safety practices, lash extension application techniques, lash styling, and aftercare. It's also beneficial to choose a program that offers hands-on training, as practical experience is crucial for developing your lash tech skills.
Meet the Eligibility Requirements
Check the age requirement
Before applying to a lash tech training program, make sure you meet the age requirement set by the program. Each program may have different age restrictions, so it's essential to confirm that you meet the minimum age criteria. Typically, aspiring Lash Techs must be at least 18 years old to enroll in training programs.
Ensure legal status in the USA
If you're not a U.S. citizen, it's important to ensure that you have legal status in the country before pursuing a lash tech career. Valid documentation, such as a work visa or permanent residency, may be required to enroll in a training program and legally work as a Lash Tech in the United States. Verify your legal status and ensure you meet the necessary requirements to pursue your career goals.
Verify any additional requirements from the training program
In addition to age and legal status requirements, some lash tech training programs may have specific prerequisites or additional requirements. These could include a minimum education level, prior experience in the beauty industry, or a personal interview. Be sure to thoroughly review the program's eligibility criteria and ensure you meet all the requirements before proceeding with your application.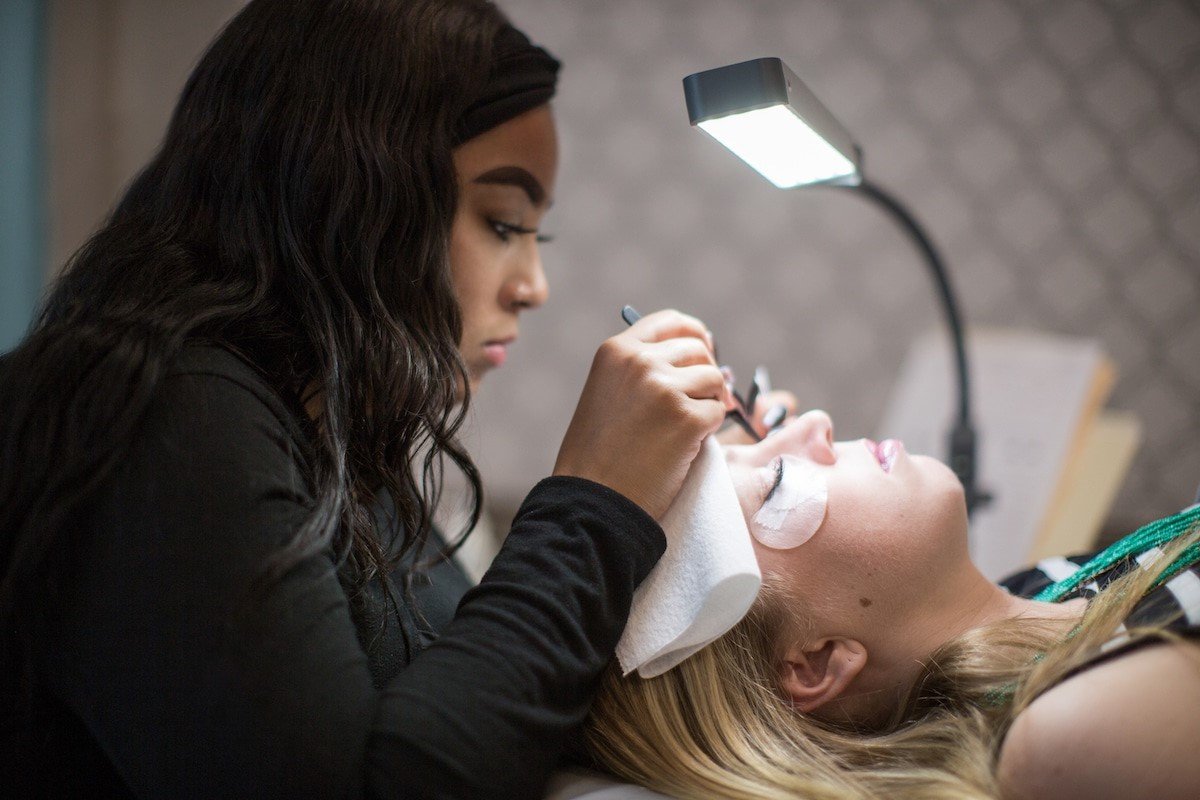 This image is property of www.thelashlounge.com.
Gather the Required Documents
Obtain identification documents
To apply for a lash tech training program, you'll need to gather the necessary identification documents. These typically include a valid government-issued identification, such as a driver's license or passport, to prove your identity and age. Ensure that your identification documents are up-to-date and readily available when preparing your application.
Prepare proof of education or equivalency
As mentioned earlier, a high school diploma or GED equivalency is usually required to pursue a career as a Lash Tech. Ensure you have your high school diploma or GED certificate readily available as proof of your education. If you have additional certifications or qualifications related to beauty or art, gather those documents as well, as they may strengthen your application and demonstrate your commitment to the field.
Collect any other required documents
Each lash tech training program may have specific document requirements, so it's important to carefully review the application instructions. Additional documents that might be requested include letters of recommendation, essays or personal statements, or a completed health screening form. Take note of any additional document requests and ensure you have them ready before submitting your application.
Apply for Lash Tech Training
Fill out the application form
Once you have gathered all the necessary documents, it's time to fill out the application form for the lash tech training program of your choice. Ensure that you provide accurate and complete information to avoid any delays or complications in the application process. Double-check your application for any errors or missing information before submitting it.
Submit the required documents
Along with the application form, submit all the required documents as outlined by the lash tech training program. This may include identification documents, proof of education, and any additional documents specific to the program. Organize your documents neatly and follow the instructions provided by the program regarding submission methods, such as online uploads or mailing.
Pay the application fee (if applicable)
Some lash tech training programs may require an application fee to cover administrative costs. If an application fee is applicable to the program you are applying for, ensure that you submit the payment along with your application. Keep a record of your payment, such as a receipt or confirmation email, for your own records.
This image is property of www.pmuhub.com.
Attend Lash Tech Training Program
Participate in theoretical classes
Once your application has been accepted, it's time to embark on your lash tech training journey. During the training program, you will participate in theoretical classes that cover various aspects of lash extensions and related services. These classes may include lectures, presentations, demonstrations, and discussions. Pay close attention, take notes, and actively engage in the learning process to absorb as much knowledge as possible.
Engage in practical training
In addition to theoretical classes, lash tech training programs usually include practical training sessions. Here, you will have the opportunity to apply lash extensions on models or mannequins under the guidance of experienced instructors. Practical training allows you to gain hands-on experience, refine your technique, and develop your confidence as a Lash Tech. Be open to feedback, ask questions, and practice diligently to master the skills required for a successful lash tech career.
Complete required hours of practice
To ensure you receive comprehensive training, most lash tech training programs require a certain number of practice hours. These hours allow you to hone your skills, build muscle memory, and perfect your lash application techniques. Dedicate ample time to complete the required practice hours, whether through working with models or in supervised practice sessions. Remember, practice makes perfect, and the more you practice, the more proficient you will become in the art of lash extensions.
Obtain Certification
Successfully pass the lash tech training program
Upon completion of all the training and practice requirements, you will need to demonstrate your proficiency by successfully passing the lash tech training program. This typically involves written examinations to assess your theoretical knowledge and practical assessments to evaluate your lash application skills. Study diligently, practice regularly, and seek clarification on any areas where you may need additional support. With hard work and dedication, you'll be well on your way to obtaining your certification.
Fulfill any additional requirements for certification
In addition to passing the training program, there may be additional requirements set forth by the training program or professional lash associations to earn your lash tech certification. These may include submitting case studies, completing a certain number of client sessions, or attending continuing education courses. Familiarize yourself with these requirements and ensure you fulfill them to attain full certification as a qualified Lash Tech.
Receive certification from the training program
After successfully completing the training program and meeting all the requirements, you will receive your lash tech certification. This certificate will serve as evidence of your competence and will allow you to proceed with practicing as a qualified Lash Tech. Keep your certification in a safe place and consider displaying it in your future workplace as a point of pride and professionalism.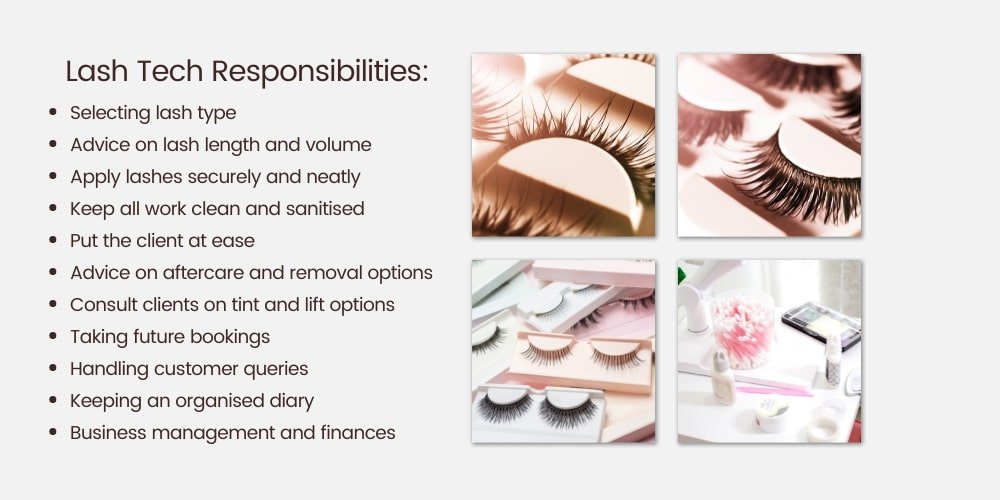 This image is property of www.australianbeautyschool.com.au.
Gain Experience
Look for internship or apprenticeship opportunities
While completing your lash tech training program provides you with essential knowledge and skills, gaining real-world experience is equally valuable. Look for internship or apprenticeship opportunities at established lash salons or beauty establishments to enhance your practical skills. Working under the guidance of experienced lash techs will allow you to further refine your technique, learn industry best practices, and understand the intricacies of running a successful lash business.
Practice on friends, family, or willing volunteers
In addition to formal internship or apprenticeship opportunities, don't underestimate the value of practicing on friends, family, or willing volunteers. Offer your lash services to those close to you to gain more hands-on experience and build confidence in your abilities. This way, you can receive valuable feedback, tailor your lash application to different preferences, and expand your client base through word-of-mouth recommendations.
Build a portfolio of your work
As you gain experience and work with more clients, it's essential to document your progress and showcase your abilities. Build a portfolio of your work by taking before and after photos of your clients' lashes. This visual representation will not only provide evidence of your skills but also act as a marketing tool when seeking job opportunities or attracting potential clients. Update your portfolio regularly and ensure it accurately represents your abilities and the quality of your work.
Apply for Lash Tech Job
Create a professional resume
When you feel confident in your lash tech skills and are ready to enter the job market, it's crucial to create a professional resume. Tailor your resume to highlight your lash tech qualifications, training, and experience. Include relevant skills such as lash application techniques, customer service, and knowledge of different lash services. Emphasize any certifications you have earned and the professional lash associations you are associated with. A well-crafted resume will help you stand out to potential employers and increase your chances of landing a lash tech job.
Prepare a portfolio showcasing your work
In addition to your resume, prepare a portfolio showcasing your best lash work. Include high-quality photos of before and after shots, demonstrating your skill in transforming clients' lashes. Arrange and present your portfolio in a professional and visually appealing manner. When applying for lash tech positions, provide your portfolio as a tangible representation of your abilities and style.
Research and apply for lash tech positions
Once you have your resume and portfolio prepared, it's time to research and apply for lash tech positions. Explore job boards, online platforms, and local beauty salons to find openings in your desired location. Network within the beauty industry and attend industry events to find out about potential job opportunities. Tailor your application for each position, showcasing your relevant experience and skills. Be proactive, persistent, and open to starting in entry-level positions to gain further experience and establish yourself as a reliable and skilled lash tech.
Congratulations! By following these comprehensive steps, you are well on your way to becoming a certified and successful Lash Tech in the United States. With dedication, passion, and continuous learning, you can flourish in this vibrant and growing industry, creating stunning lash transformations for your clients and making a positive impact. Good luck on your lash tech journey!