Are you considering a career in piercing? If so, you're in luck! This article will provide you with a comprehensive overview of the piercing career path in the USA. From the growing demand for body piercings to the skills and qualifications required, we'll explore everything you need to know to pursue a successful and fulfilling career in this unique and creative field. Whether you're a student contemplating your future or someone looking to switch careers, this article will serve as the perfect introduction to the world of piercing. So, let's delve into the fascinating world of piercing and discover the opportunities that await you!
This image is property of static.zippia.com.
1. What is a Piercer?
1.1 Definition
A piercer is a professional who specializes in creating and maintaining piercings on various parts of the body. They use sterilized needles and specialized tools to insert jewelry, such as rings, studs, or barbells, into the skin. Piercers work closely with clients to ensure their desired piercing is done safely and accurately.
1.2 Role and Responsibilities
As a piercer, your main role is to provide clients with high-quality piercing services while prioritizing their safety and well-being. Some of your responsibilities may include:
Assisting clients in choosing appropriate jewelry for their desired piercing
Preparing the equipment and sterilizing the necessary tools before each procedure
Educating clients about the piercing process, aftercare, and potential risks
Ensuring a clean and sanitary environment for piercing procedures
Performing the actual piercing, following precise techniques and guidelines
Providing aftercare instructions and offering advice for proper healing
Maintaining accurate records of client information and piercing history
1.3 Required Skills
To excel as a piercer, several skills are essential:
Knowledge of human anatomy and the specific anatomy of various body parts
Attention to detail and precision in performing piercings
Excellent communication and interpersonal skills to interact with clients
Patience and empathy to address client concerns and questions
Ability to work in a fast-paced environment while maintaining a calm demeanor
Solid understanding of sterilization techniques and a commitment to adhering to strict health and safety standards
1.4 Salary Range
The salary range for piercers can vary depending on factors such as location, experience, and the type of establishment they work in. On average, piercers earn between $25,000 and $45,000 per year in the United States. However, experienced piercers who work in popular studios or have a large client base can earn significantly higher wages.
2. Education and Training
2.1 High School
While a high school diploma is not a strict requirement to become a piercer, it is highly recommended to have a basic education. High school courses in biology, anatomy, and art can provide a solid foundation for understanding the human body and developing artistic skills. Additionally, strong communication and customer service skills gained through extracurricular activities or part-time jobs can be beneficial in this career.
2.2 Apprenticeship
Obtaining hands-on experience through an apprenticeship is a common path for aspiring piercers. Apprenticeships allow you to learn from experienced professionals in a real-world setting, gaining practical skills and knowledge. During an apprenticeship, you will typically observe and assist the mentor piercer, gradually taking on more responsibilities as your skills progress.
2.3 Certification
While certification is not required in all states, obtaining professional certification from reputable organizations such as the Association of Professional Piercers (APP) can enhance your credibility and marketability as a piercer. Certification programs typically involve coursework on anatomy, sterilization techniques, jewelry selection, and aftercare. They may also include practical assessments to ensure proficiency in performing safe piercings.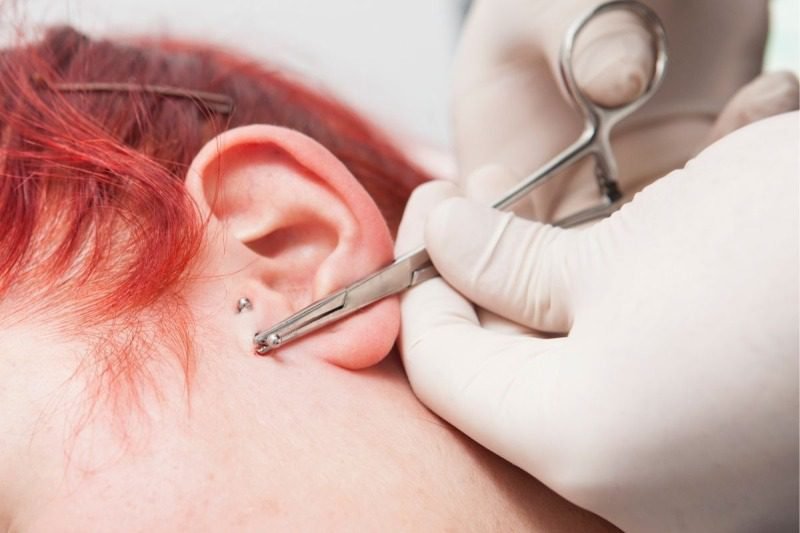 This image is property of cdn.becomeopedia.com.
3. Licensing and Regulations
3.1 State Regulations
As a piercer, you must familiarize yourself with the specific licensing and regulatory requirements in the state where you plan to practice. Licensing requirements can vary, but they often involve completing a specific number of training hours, passing an examination, and maintaining certification through continuing education. Some states may also require background checks or specific health and safety certifications.
3.2 Health and Safety Standards
Ensuring the health and safety of clients is paramount in the piercing industry. It is crucial to adhere to strict health and safety regulations to prevent infections, cross-contamination, and other potential risks. This includes maintaining a clean and sterile environment, using disposable and single-use equipment whenever possible, and following proper sterilization procedures for reusable tools. Regular inspections by health departments help enforce these standards.
4. Work Environment
Piercers can work in various settings, including tattoo and piercing studios, health care facilities, or as self-employed freelancers.
In tattoo and piercing studios, piercers usually work alongside tattoo artists and other professionals in the body modification industry. These studios provide a creative and artistic atmosphere where clients can get a tattoo, piercing, or both. Working in a studio allows piercers to collaborate with fellow artists and gain exposure to different styles and techniques.
Healthcare facilities, such as hospitals or dermatology clinics, may hire piercers to provide services in a sterile medical environment. In these settings, piercers may work alongside medical professionals and may be required to adhere to additional regulations due to the healthcare industry's strict standards.
Some piercers choose to work independently or as freelancers, offering their services at pop-up shops, conventions, or private events. Freelancing can provide flexibility in setting your own schedule and choosing the types of piercings you offer. However, it may also require additional effort in self-promotion and marketing to attract clients.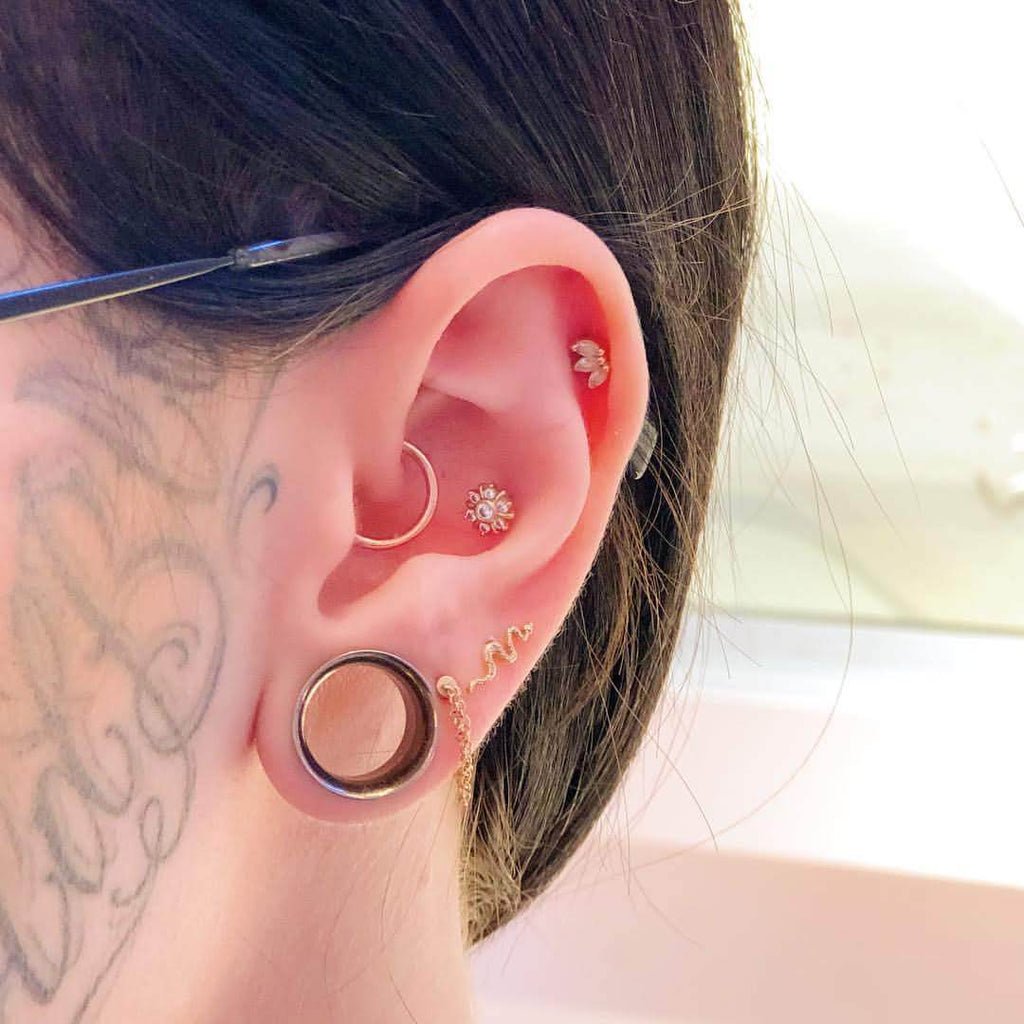 This image is property of pierced.co.
5. Job Opportunities
5.1 Tattoo and Piercing Studios
Tattoo and piercing studios are the most common employment option for piercers. These studios can range from small, independent shops to larger, well-established establishments. Working in a studio allows piercers to build a loyal client base and be part of a creative community.
5.2 Health Care Facilities
Certain healthcare facilities, such as hospitals or dermatology clinics, may offer piercing services as part of their range of patient care options. Piercers in these settings typically work alongside medical professionals and may be required to follow additional health regulations and protocols.
5.3 Freelancing and Self-Employment
For those seeking more autonomy and flexibility, freelancing or starting their own piercing business can be a viable option. This allows piercers to set their own schedules and choose their clients. However, it requires additional responsibilities such as marketing, managing finances, and ensuring compliance with local regulations.
6. Career Progression
6.1 Advancement Opportunities
Piercers can advance their careers through various paths, including:
Becoming a senior or lead piercer within a studio
Opening their own tattoo and piercing studio
Teaching or mentoring aspiring piercers through apprenticeship programs
Pursuing advanced certifications and specialization in specific areas of body piercing
Expanding into related fields such as body modification or jewelry design
6.2 Specializations
Within the piercing industry, piercers can specialize in specific types of piercings or body areas. Some common specializations include:
Ear piercings, such as helix, tragus, or daith piercings
Facial piercings, such as eyebrow, nose, or lip piercings
Body piercings, such as navel, nipple, or surface piercings
Genital piercings, such as Prince Albert or clitoral hood piercings
Becoming a specialist in a particular type of piercing can help piercers develop expertise and a unique niche in the industry.
6.3 Continuing Education
To stay current in the piercing industry and expand their knowledge and skills, piercers should engage in continuing education. This may involve attending workshops, conferences, or seminars, as well as keeping up with industry publications and trends. Continuing education ensures piercers remain updated on the latest techniques, practices, and safety standards.
This image is property of www.demiinternational.edu.au.
7. Industry Demand and Job Market
7.1 Current Industry Trends
The body modification industry, including piercing, continues to grow in popularity and acceptance. The demand for piercers is driven by people seeking individuality, self-expression, and unique forms of adornment. Innovative jewelry designs, cultural influences, and social media trends also contribute to the industry's ever-evolving landscape.
7.2 Demand for Piercers
While the demand for piercers may vary by location, the overall outlook is positive. Tattoo and piercing studios, as well as healthcare facilities that offer piercing services, are often in need of skilled and qualified piercers. As body modification becomes more mainstream, the demand for experienced professionals who can provide safe and high-quality services is expected to increase.
7.3 Job Market Outlook
The job market for piercers is competitive, with many individuals aspiring to enter the industry. However, with the right training, experience, and dedication, opportunities can be found. Building a strong portfolio, specializing in in-demand piercings, and cultivating a positive reputation through excellent client care are essential to stand out in the job market.
8. Professional Organizations and Networking
8.1 Association of Professional Piercers (APP)
The Association of Professional Piercers (APP) is an internationally recognized organization dedicated to promoting best practices in the piercing industry. Joining the APP provides piercers with access to valuable resources, educational materials, and networking opportunities. Additionally, the APP holds an annual conference where piercers can learn from industry leaders, attend workshops, and connect with fellow professionals.
8.2 Tattoo and Piercing Conventions
Attending tattoo and piercing conventions is another way to network and stay connected within the industry. These events bring together tattoo artists, piercers, vendors, and enthusiasts from around the world. Conventions often feature competitions, seminars, and opportunities to showcase your work, making them valuable for gaining exposure and building professional relationships.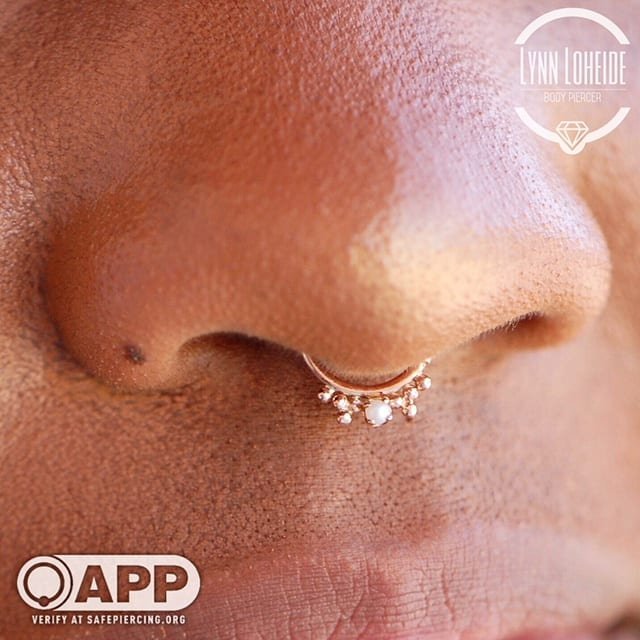 This image is property of static.wixstatic.com.
9. Challenges and Risks
9.1 Health Risks and Safety Concerns
Working as a piercer involves potential health risks and safety concerns. It is crucial to strictly adhere to sterilization protocols, use disposable instruments when possible, and maintain a clean working environment to minimize the risk of infections and cross-contamination. Piercers must also stay updated on bloodborne pathogen training and adhere to all relevant health and safety regulations.
9.2 Legal and Liability Issues
Piercers need to be aware of the legal and liability issues associated with their profession. This includes obtaining the necessary licenses and permits, following state and local regulations, and maintaining appropriate liability insurance. Informed consent, accurate record-keeping, and proper aftercare instructions are also crucial to minimize legal risks and provide a safe and ethical practice.
10. Advice for Aspiring Piercers
10.1 Building a Portfolio
Creating a strong portfolio is essential for aspiring piercers to showcase their skills and attract potential employers or clients. Document your work by taking clear and well-lit photos of your piercings on a diverse range of clients. Include photos of different types of piercings, demonstrating your versatility and expertise. Make sure your portfolio is professional, organized, and easily accessible for potential clients or employers to review.
10.2 Gaining Experience
To gain valuable experience, consider seeking apprenticeships or part-time positions at reputable tattoo and piercing studios. Working under experienced piercers allows you to learn from their expertise and gain hands-on skills. Additionally, volunteering your services at community events or offering discounted rates to friends and family can help you build your confidence and expand your portfolio.
10.3 Building a Professional Network
Networking within the industry is crucial for career growth as a piercer. Attend industry events, conventions, and workshops to meet fellow professionals, stay updated on industry trends, and potentially find job opportunities. Joining professional organizations, such as the APP, can provide access to a supportive community and valuable mentorship opportunities. Building relationships with tattoo artists, body modification specialists, and other professionals in related fields can also lead to collaborations and referrals.
Embarking on a career as a piercer can be a rewarding journey for those with a passion for body modification and a commitment to safety and professionalism. By obtaining the necessary education, training, and certifications, and by staying connected to the industry through networking and continuing education, you can pursue a successful and fulfilling career as a piercer in the United States.