If you're a student considering a career in the United States, one path worth exploring is becoming a Loan Officer. In this role, you have the opportunity to help individuals and businesses secure the financing they need for various purposes. But how exactly does one become a Loan Officer in the USA? This article will provide you with all the essential information and steps to set you on the right track towards this rewarding career. From educational requirements to gaining relevant experience, we'll cover it all. So, let's dive in and explore the world of being a Loan Officer in the USA!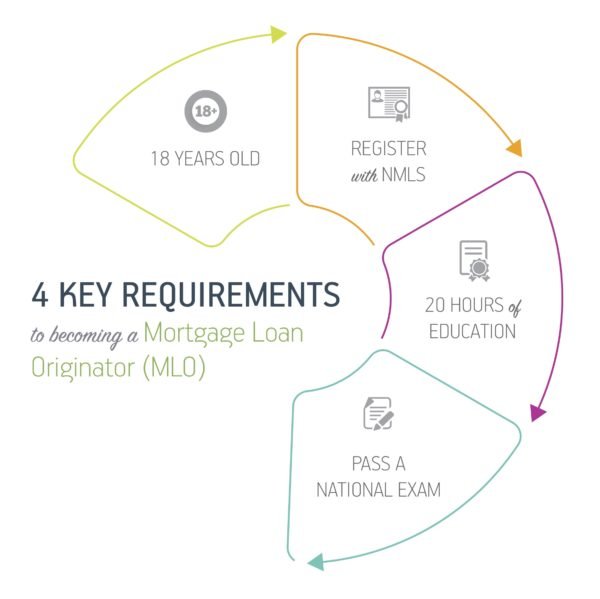 This image is property of www.oncourselearning.com.
Education and Training
Obtain a High School Diploma or Equivalent
To start your journey towards becoming a loan officer in the USA, the first step is to obtain a high school diploma or its equivalent. Having a strong foundation in subjects such as math, economics, and finance will be beneficial for your future career in the financial industry.
Complete a Bachelor's Degree
While a bachelor's degree is not always a strict requirement to become a loan officer, having one significantly enhances your chances of landing a job in this field. Consider pursuing a degree in business, finance, or a related field to gain a solid understanding of financial concepts and practices.
Consider a Master's Degree in Business or Finance
For those aspiring to excel in their career as loan officers and have a deeper understanding of financial practices, pursuing a master's degree in business or finance is worth considering. A master's degree can provide you with advanced knowledge and skills that will set you apart from other candidates in the industry.
Gaining Experience
Consider Entry-Level Positions in Financial Institutions
To gain valuable experience and develop a strong foundation in the financial industry, consider starting your career with entry-level positions in financial institutions such as banks or credit unions. These positions will allow you to familiarize yourself with lending processes, loan products, and customer service skills essential for a loan officer.
Look for Internship Opportunities
Internships are an excellent way to gain practical experience and make professional connections in the industry. Look for internship opportunities specifically in mortgage lending or loan departments of financial institutions. This hands-on experience will give you a real-world understanding of the loan origination process and help you develop crucial skills.
Networking and Building Professional Connections
Networking is an integral part of any successful career, and becoming a loan officer is no exception. Attend industry events, join professional associations, and connect with professionals in the financial and real estate sectors. Building a strong professional network can open doors to job opportunities and provide valuable guidance throughout your career.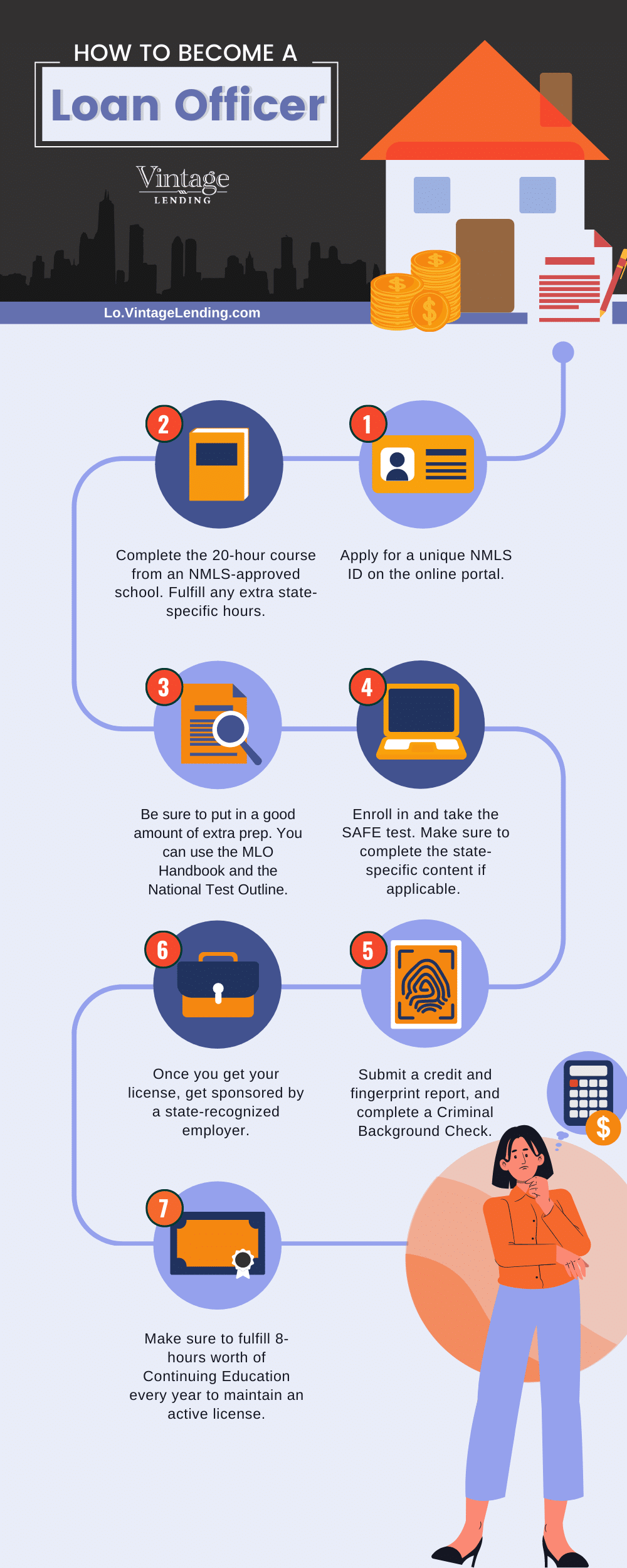 This image is property of lo.vintagelending.com.
Developing Key Skills
Strong Communication and Interpersonal Skills
As a loan officer, strong communication and interpersonal skills are vital to effectively interact with clients, real estate professionals, and other stakeholders in the loan origination process. Enhancing skills such as active listening, clear verbal and written communication, and empathy will enable you to establish trust and build long-term relationships with clients.
Attention to Detail and Analytical Abilities
Attention to detail is crucial in the loan origination process, as even the smallest errors can have significant consequences. Develop strong analytical abilities to analyze financial documents, assess creditworthiness, and evaluate risk factors. Being meticulous and thorough in your work will ensure that each loan application is properly evaluated and processed.
Sales and Negotiation Skills
Loan officers often have to market loan products to potential borrowers and negotiate loan terms and conditions. Developing effective sales strategies and honing your negotiation skills will help you excel in this aspect of the job. Being able to identify and address customer needs while advocating for the best interests of your institution is key to success in this role.
Familiarity with Financial and Loan Processing Software
In today's digital age, proficiency in financial and loan processing software is essential for loan officers. Familiarize yourself with industry-standard software programs used for loan origination, underwriting, and documentation. Stay updated with the latest technological advancements to streamline processes and provide efficient services to your clients.
Meeting Licensing Requirements
Research State-specific Licensing Requirements
Each state in the USA has its own specific licensing requirements for loan officers. Research and familiarize yourself with the licensing regulations applicable to your state. Understand the educational prerequisites, experience requirements, and any additional certifications or exams mandated by your state's regulatory authority.
Complete the Pre-licensing Education
To fulfill the licensing requirements, complete the necessary pre-licensing education courses approved by your state regulatory authority. These courses will provide you with the knowledge and understanding of the laws, regulations, and ethical standards relevant to mortgage lending.
Pass the National Mortgage Licensing System (NMLS) Exam
The National Mortgage Licensing System (NMLS) exam is a standardized exam that assesses your knowledge of mortgage loan origination laws and regulations. Successfully passing this exam is a requirement in most states to obtain a loan officer license. Prepare diligently by studying relevant materials and resources to increase your chances of exam success.
Apply for a State Loan Officer License
After meeting the educational and exam requirements, you can apply for a state loan officer license through your state's regulatory authority. Ensure that all necessary documentation, fees, and any additional requirements are submitted accurately and within the designated timeframe. Once approved, you will be officially licensed to work as a loan officer in your state.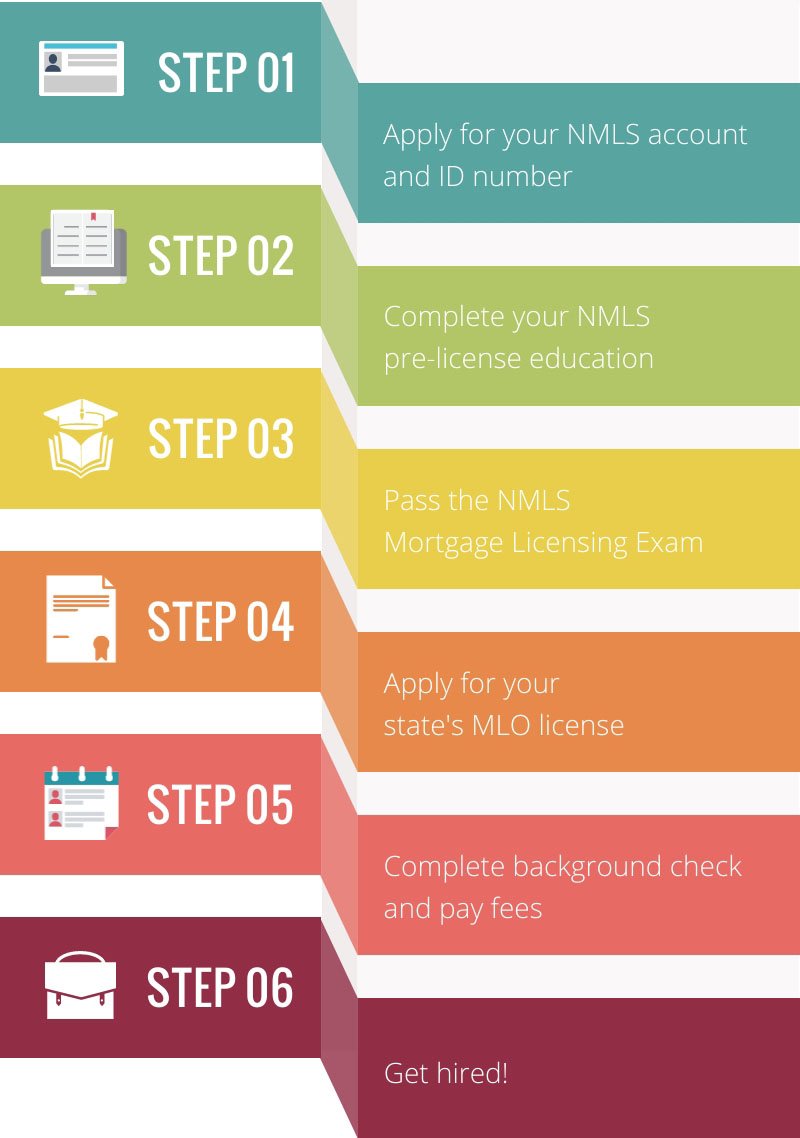 This image is property of www.oncourselearning.com.
Obtaining Certifications
Consider the Certified Mortgage Banker (CMB) Designation
The Certified Mortgage Banker (CMB) designation is a highly regarded certification offered by the Mortgage Bankers Association (MBA). This prestigious certification signifies an advanced level of knowledge, experience, and ethical standards in the mortgage banking industry. Consider pursuing the CMB designation to demonstrate your commitment to excellence and enhance your professional reputation.
Explore Other Relevant Certifications (e.g., Certified Loan Officer, Certified Residential Mortgage Specialist)
In addition to the CMB designation, there are other certifications available that can further validate your expertise as a loan officer. Certifications such as Certified Loan Officer (CLO) or Certified Residential Mortgage Specialist (CRMS) provide specialized knowledge and distinguish you as a qualified professional in specific areas of mortgage lending. Research these certifications and determine if they align with your career goals.
Job Search and Application
Tailor Your Resume and Cover Letter
When applying for loan officer positions, it's essential to tailor your resume and cover letter to highlight relevant skills, education, and experience. Emphasize your knowledge of industry regulations, software proficiencies, and any certifications obtained. Additionally, showcase your strong communication, sales, and customer service skills, as these are highly valued qualities in loan officers.
Utilize Online Job Boards and Career Websites
Online job boards and career websites are valuable resources for finding loan officer job opportunities. Utilize platforms such as Indeed, LinkedIn, and Glassdoor to search for open positions and submit your applications. Take advantage of the search filters to narrow down your options based on location, desired salary, and experience level.
Tap into Professional Networking
As mentioned earlier, networking is a powerful tool in your job search. Leverage your professional connections, attend industry events, and engage with loan officer associations to increase your visibility and access hidden job opportunities. Reach out to mentors and colleagues for referrals and recommendations, as personal connections can greatly enhance your chances of securing an interview.
Prepare for Interviews
Preparation is key to performing well in job interviews. Research the company you are interviewing with, understand their loan products and services, and familiarize yourself with their values and mission. Practice answering common interview questions and prepare examples that demonstrate your skills, experience, and abilities in the loan officer role. Arrive at the interview well-dressed, confident, and ready to showcase your potential as a loan officer.
This image is property of ijungo.com.
Continuing Education and Professional Development
Stay Updated with Industry Regulations and Practices
The financial industry is constantly evolving, with new regulations and practices being implemented regularly. Stay updated with changes in mortgage lending laws, underwriting guidelines, and industry trends. Subscribe to industry publications, follow reputable financial news sources, and attend webinars or workshops that provide insights into the latest developments.
Attend Workshops, Seminars, and Webinars
Continuing education is essential for professional growth as a loan officer. Take advantage of workshops, seminars, and webinars relevant to mortgage lending. These educational opportunities will keep you informed about industry best practices, emerging technologies, and innovative strategies that can help you excel in your role.
Join Professional Associations and Organizations
Joining professional associations and organizations within the mortgage and financial industry can provide numerous benefits. These associations offer networking opportunities, access to educational resources, and platforms for sharing knowledge and experiences with other professionals in your field. Consider joining organizations such as the Mortgage Bankers Association (MBA) or the National Association of Mortgage Brokers (NAMB) to enhance your professional development.
Pursue Advanced Degrees or Certifications
To further solidify your expertise in the mortgage lending industry, consider pursuing advanced degrees or additional certifications. A master's degree in business administration or finance can provide you with a competitive edge and open doors to leadership positions. Additionally, explore certifications that focus on specific areas such as commercial lending or mortgage underwriting to expand your knowledge and enhance your professional profile.
Building a Strong Professional Network
Attend Industry Conferences and Events
Industry conferences and events are excellent opportunities to expand your professional network. Attend mortgage lending conferences, expos, and seminars to connect with industry experts, lenders, brokers, and other loan officers. Engaging in conversations, participating in panel discussions, and exchanging ideas at these events can lead to valuable collaborations and career growth opportunities.
Join Loan Officer Associations and Groups
Joining loan officer associations and groups can provide you with a network of peers who understand the challenges and dynamics of the profession. Associations like the Loan Officer's Association or local mortgage banking associations offer forums for sharing insights, discussing industry trends, and accessing resources specific to the loan officer role. Active participation in these organizations can help you stay current and connected within the field.
Utilize Social Media for Networking
Social media platforms offer a convenient way to network and connect with professionals in the mortgage industry. Create a professional profile on platforms like LinkedIn and actively engage with industry-related content. Connect with loan officers, mortgage brokers, and professionals in the real estate industry to expand your network. Share relevant articles, participate in discussions, and establish yourself as a knowledgeable resource in your field.
Develop Relationships with Realtors and Other Professionals in the Real Estate Industry
Loan officers frequently collaborate with real estate agents, appraisers, and other professionals in the real estate industry. Building strong relationships with these stakeholders can generate referrals and lead to mutually beneficial partnerships. Attend real estate industry events, join local realtor associations, and actively engage with professionals in person and online to establish credibility and nurture valuable connections.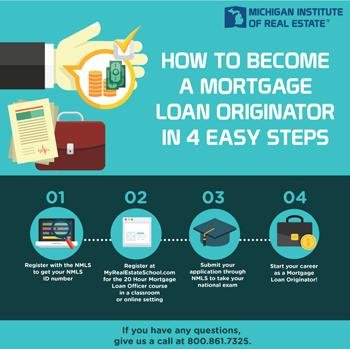 This image is property of myrealestateschool.com.
Advancement Opportunities
Gain Experience and Expertise
Advancing in your career as a loan officer requires gaining experience and developing expertise in the industry. Continually seek opportunities to expand your loan portfolio and work with a variety of clients, loan types, and financial situations. The more diverse your experience, the better equipped you will be to handle complex transactions and progress in your career.
Consider Specializing in a Niche Market
Specializing in a niche market can set you apart from other loan officers and create a unique value proposition for clients. Focus on a specific segment, such as first-time homebuyers, commercial loans, or government-backed mortgages. Develop expertise in the specific requirements, regulations, and loan products associated with your chosen niche to become a go-to expert in that field.
Pursue a Leadership Role
Continued professional growth can lead to leadership opportunities within the mortgage lending industry. As you accumulate experience and hone your skills, seek out positions such as team lead, branch manager, or regional manager to take on supervisory and decision-making responsibilities. Leadership roles offer not only increased compensation but also the chance to shape the direction of your team and contribute to organizational success.
Explore Entrepreneurial Opportunities
If you have an entrepreneurial spirit and the desire for greater autonomy, consider exploring entrepreneurial opportunities within the mortgage lending industry. Launching your own mortgage brokerage or starting a loan officer consultancy can provide you with more control over your business and income potential. However, be prepared for the additional responsibilities and challenges that come with being a self-employed professional.
Complying with Ethical and Legal Standards
Adhere to Industry Regulations, Laws, and Guidelines
Maintaining adherence to industry regulations, laws, and guidelines is paramount for loan officers. Take the time to familiarize yourself with the regulations applicable to your role and ensure that all your practices align with ethical standards. Understand the Truth in Lending Act (TILA), Real Estate Settlement Procedures Act (RESPA), and Fair Lending laws to provide transparent and lawful service to your clients.
Maintain Confidentiality and Data Privacy
Handling sensitive financial information is a significant responsibility for loan officers. Safeguard client data and maintain confidentiality throughout the loan origination process. Stay informed about data privacy regulations, such as the Gramm-Leach-Bliley Act (GLBA) and the California Consumer Privacy Act (CCPA), to ensure strict compliance.
Avoid Conflicts of Interest
Loan officers must maintain objectivity and avoid conflicts of interest that may compromise the quality and fairness of their service. Disclose any potential conflicts to clients and act in their best interests throughout the loan application and approval process. Establish a reputation for ethical conduct and prioritize the long-term satisfaction and financial well-being of your clients.
Provide Transparent and Honest Service to Clients
Transparency and honesty form the foundation of a credible and successful loan officer career. Clearly communicate loan terms, fees, and potential risks to clients, helping them make informed decisions. Be honest about loan eligibility, credit requirements, and potential roadblocks. By providing transparent and honest service, you build trust, strengthen client relationships, and contribute to a positive reputation personally and for your institution.
Becoming a loan officer in the USA requires a combination of education, experience, skills development, professional networking, and adherence to ethical standards. By following this comprehensive guide, aspiring loan officers can position themselves for success in this rewarding career. Embrace continuous learning and seize opportunities for growth, as the mortgage lending industry continues to evolve and present new challenges and opportunities.