Are you passionate about helping new mothers and babies? Do you have a deep understanding of breastfeeding and its benefits? If so, you may want to consider a career as a Lactation Consultant. This rewarding profession involves providing support and guidance to breastfeeding mothers, ensuring that they have a positive and successful breastfeeding experience. In this article, we will explore the steps necessary to become a Lactation Consultant in the United States, helping you to embark on a fulfilling career in this important field.
Steps to becoming a Lactation Consultant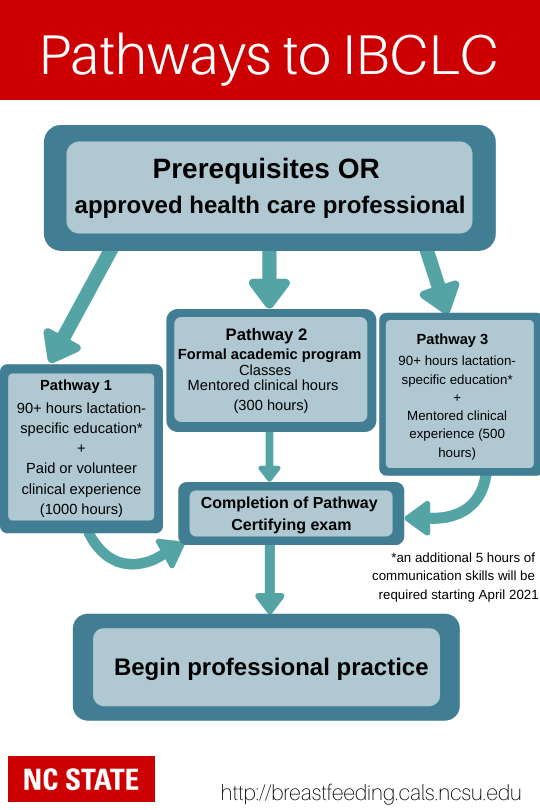 This image is property of breastfeeding.cals.ncsu.edu.
1. Understand the Role of a Lactation Consultant
Before embarking on the journey to become a lactation consultant, it is crucial to fully understand and appreciate the role that lactation consultants play. A lactation consultant is a healthcare professional who specializes in providing guidance and support to mothers and families in their breastfeeding journey. They are trained to assess and manage breastfeeding problems, educate families about breastfeeding techniques, and promote the importance of breastfeeding for both the baby and mother's health. Lactation consultants work in a variety of settings such as hospitals, private practice, or community organizations, and they play a vital role in ensuring successful breastfeeding experiences for mothers and their infants.
2. Meet the Minimum Education Requirements
To become a lactation consultant, it is important to meet the minimum education requirements. The minimum requirement typically includes a high school diploma or equivalent. However, aspiring lactation consultants may find it advantageous to pursue a higher level of education, such as a bachelor's degree in a related field such as nursing or nutrition. While a formal degree is not always a requirement, it can provide a strong foundation of knowledge and skills that will be beneficial in the field.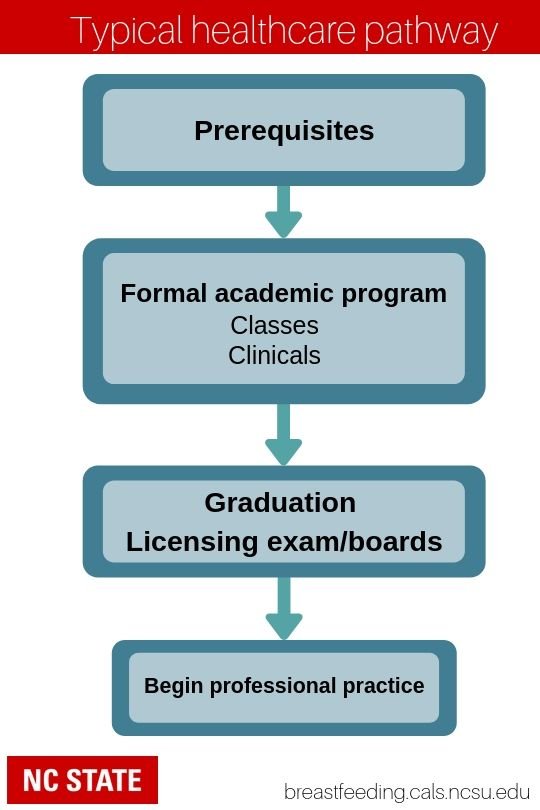 This image is property of breastfeeding.cals.ncsu.edu.
3. Complete a Lactation Education Program
Once the minimum education requirements are met, aspiring lactation consultants must complete a lactation education program. These programs are designed to provide students with the knowledge and skills necessary to support breastfeeding families effectively. Lactation education programs are usually offered by accredited organizations and can be completed online or in-person. The curriculum of these programs covers a wide range of topics including anatomy and physiology of lactation, infant feeding techniques, common breastfeeding issues and solutions, counseling skills, and ethical considerations.
4. Gain Clinical Experience
After completing a lactation education program, it is crucial to gain clinical experience in the field. Clinical experience allows aspiring lactation consultants to apply their knowledge and skills in real-world settings and develop the necessary confidence and competence required for the role. Clinical experience can be obtained through internships, volunteer positions, or by working under the supervision of a certified lactation consultant. It is important to seek out opportunities that provide exposure to a diverse population of breastfeeding families, as this will help in building a comprehensive understanding of the various challenges and solutions that may arise.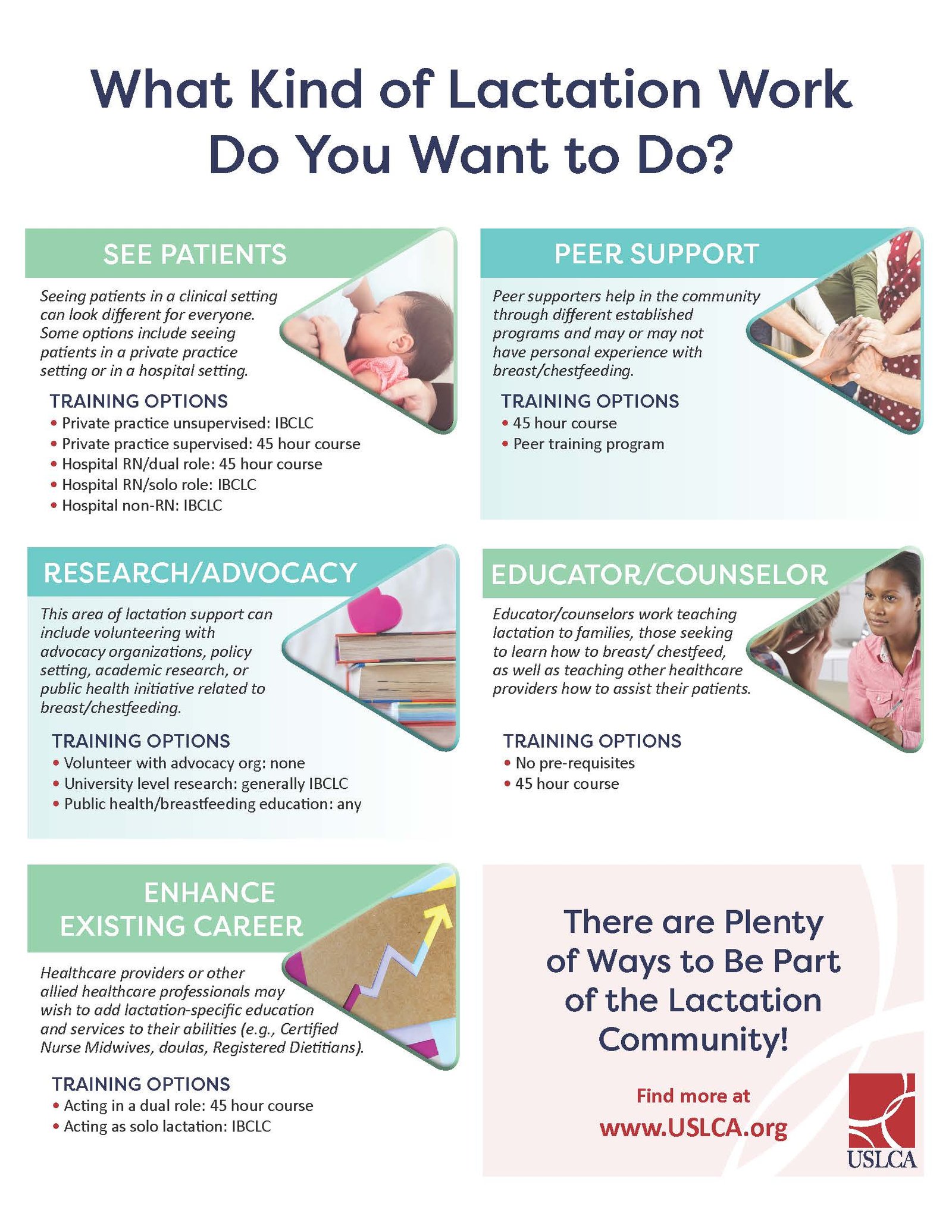 This image is property of uslca.org.
5. Obtain Certification
Certification is an essential step in becoming a lactation consultant. It not only validates one's knowledge and skills but also demonstrates a commitment to professionalism and continuing education. There are several organizations that offer certification for lactation consultants, such as the International Board of Lactation Consultant Examiners (IBLCE) and the Lactation Education Accreditation and Approval Review Committee (LEAARC). These organizations have their own specific eligibility criteria, which typically include completing the required education program, obtaining a specific number of clinical hours, and adhering to a code of ethics. It is important to carefully review the requirements of each certification organization to determine eligibility and ensure compliance.
6. Optional: Pursue Higher Education
While not a requirement, pursuing higher education in the field of lactation can be beneficial for career advancement and professional growth. Advanced degrees, such as a master's or doctoral degree in lactation, can provide a deeper understanding of lactation science, research methodology, and advanced clinical skills. These degrees can open doors to opportunities in research, teaching, or leadership roles in lactation support organizations. Additionally, higher education can enhance credibility and expertise, making it an attractive option for those looking to stand out in the field.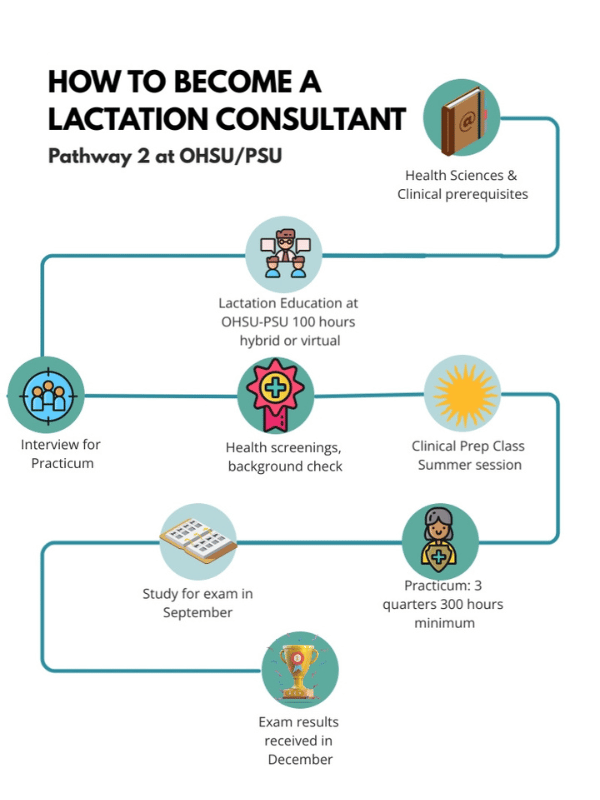 This image is property of ohsu-psu-sph.org.
7. Prepare for the Exam
Preparing for the certification exam is a crucial step in the journey to becoming a lactation consultant. The certification exam, offered by organizations such as the IBLCE, assesses the knowledge and skills necessary to practice as a certified lactation consultant. It is important to allocate sufficient time for exam preparation and utilize resources such as study guides, practice tests, and review courses. Connecting with fellow aspiring lactation consultants or joining study groups can also provide valuable support and collaborative learning opportunities.
8. Pass the Exam
The certification exam is a comprehensive assessment of the knowledge and skills required to be a competent lactation consultant. It is important to approach the exam with confidence and a thorough understanding of the exam content. The exam consists of multiple-choice questions and may include practical scenarios to evaluate clinical decision-making abilities. Taking the time to study, review, and practice prior to the exam will increase the likelihood of success. Remember to manage test anxiety by getting enough rest, eating well, and practicing relaxation techniques on the day of the exam.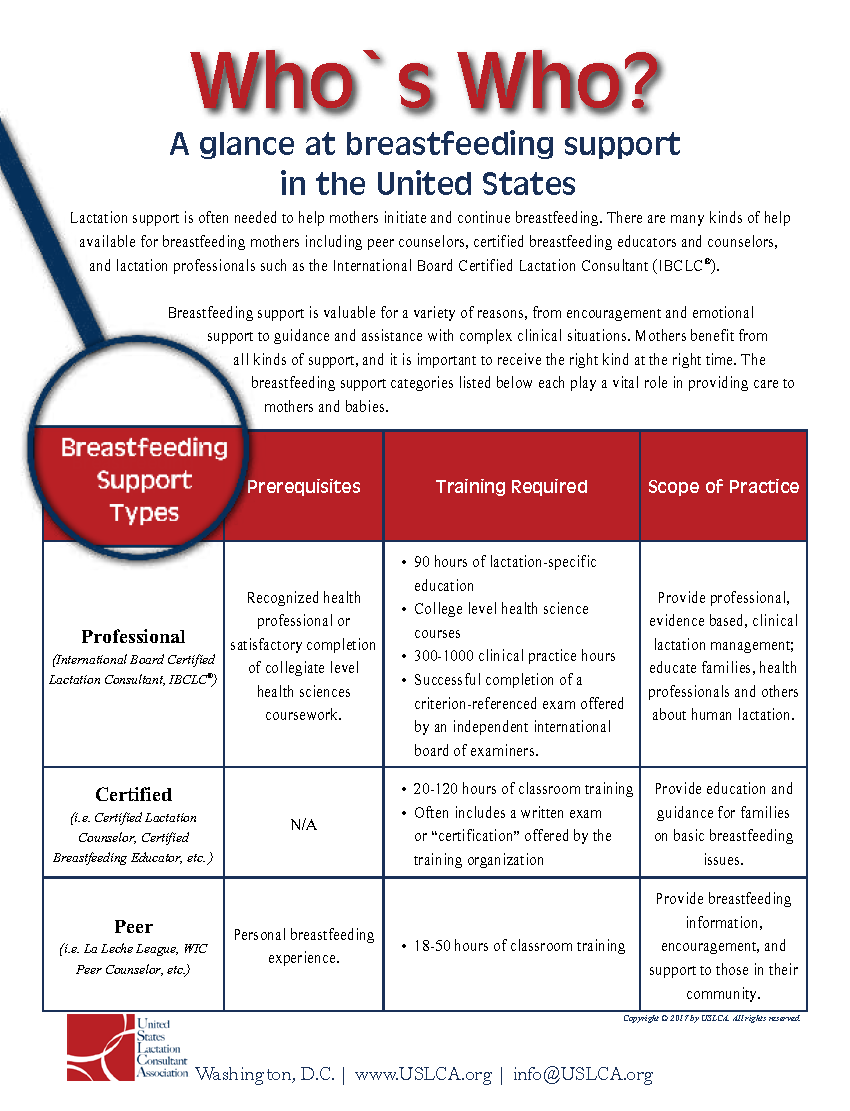 This image is property of www.lactationtraining.com.
9. Maintain Certification
Once certified as a lactation consultant, it is essential to maintain certification through ongoing professional development. Certification organizations typically require lactation consultants to complete continuing education credits on a regular basis to stay updated on the latest advancements in the field. Attendance at conferences, workshops, seminars, and webinars related to lactation is often recognized as a means of earning these credits. Additionally, active engagement in professional organizations and networks can provide valuable opportunities for learning, collaboration, and mentorship.
10. Gain Professional Experience
Finally, gaining professional experience is crucial for personal and career development as a lactation consultant. Professional experience allows lactation consultants to apply their knowledge and skills in different settings, expand their network, and build a diverse portfolio of successful breastfeeding support. Consider seeking employment in hospitals, clinics, private practices, or community organizations to gain exposure to various populations and challenges. Additionally, staying updated on current research, guidelines, and best practices through journals, online forums, and professional conferences will help maintain expertise and provide opportunities for professional growth.
In conclusion, becoming a lactation consultant requires a combination of education, clinical experience, certification, and ongoing professional development. It is a rewarding career path that allows you to make a significant impact on the lives of breastfeeding families. By following these steps and continuously enhancing your knowledge and skills, you can embark on an exciting journey towards becoming a successful lactation consultant.